Pedestrians and public transport share 20% of the street, while personal cars occupy the majority of the roadway. Can it be different? Ruxandra Aelenei, lecturer at the University of Applied Sciences in Amsterdam, spoke about active mobility and the constraints in the revolution of how the car is perceived in the city.
If we think of a city as a human organism, we can say that urban mobility is its heart. The way we travel from home to work or do our daily errands has powerful effects on this body. The first indication that urban mobility in a city is not functional is the smell in the air. Air pollution greatly affects our health, but it is not the only side effect of cars. The time lost in traffic, even as a pedestrian, the anger made at the wheel, the costs of maintaining a car and the mental "mapping" of parking spaces are some factors that exhaust us. In this case, we have two options: we take better care of the "heart" of the city, or we take responsibility for the harm we cause it and suffer the consequences.
Why do we need fewer cars in our cities? When we talk about cars, it is common knowledge that private motorized mobility has very bad effects on us, especially on health because it creates a lot of air pollution, congestion, stress and has very negative effects on environment, like urban heat effects. At the same time, we know that active transportation and green spaces in cities provide for much better environments and also better mental health for us. The question that remains is why do we have so many examples with cars and very many car lanes and not enough of examples of streets for people. The numbers are even more scary. 80% of the urban road space is taken by car. The rest is shared between cycling, walking, micromobility of any kind and public transport while that proportion is not the same, the cars are not moving 80% of the people, they are just taking 80% of the urban road space. The cars are parked 90% of the time so that is space that is not used for life, for people. There are people who still believe that having a car and using a car and especially being provided with a parking space by the municipality is a right. I don't think it is a right, I think accessibility is a right. We all have a right to access jobs, access health, activities, schools and so on but we don't have the right to own a car or a parking space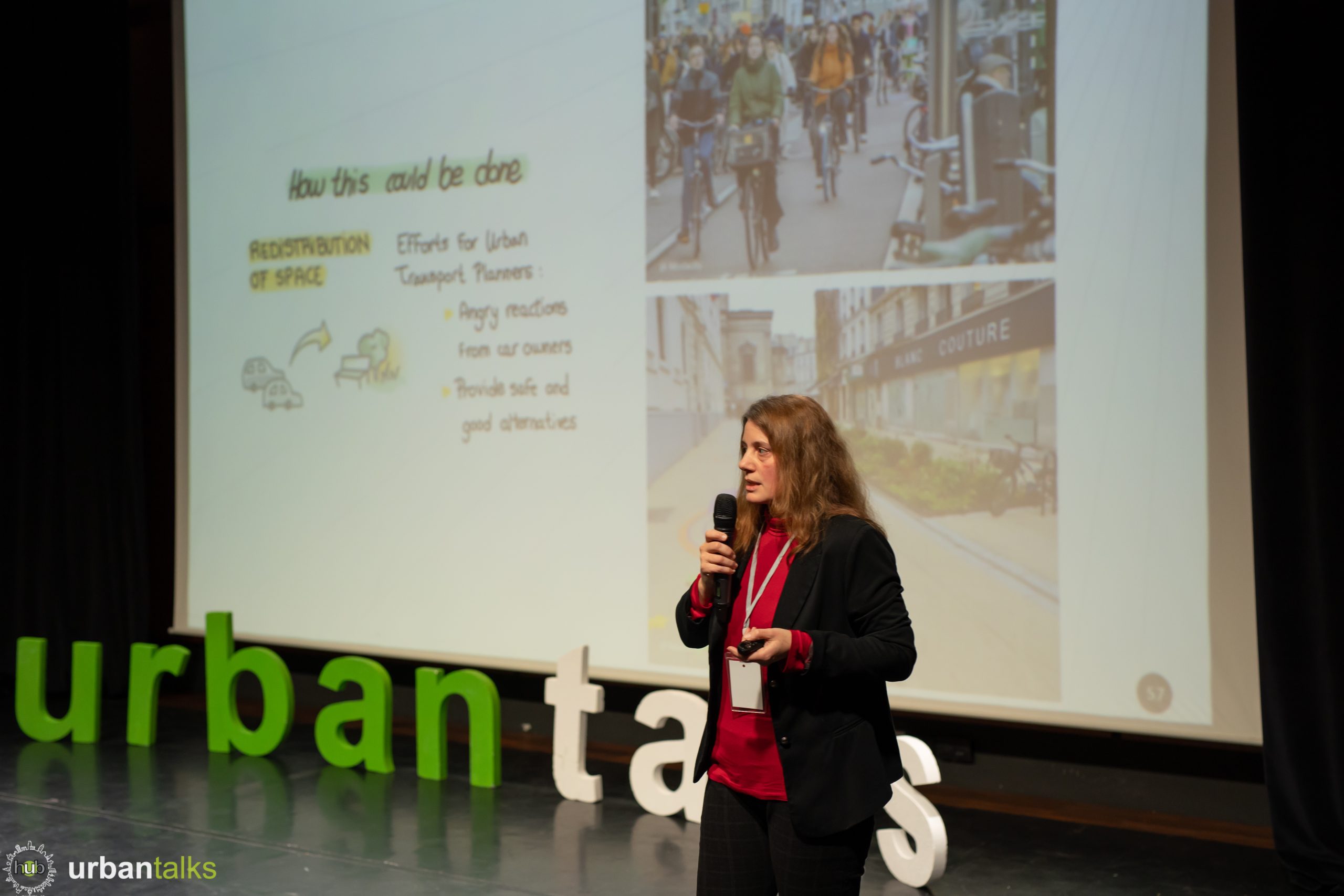 Normally, the first instinct would be to smooth the traffic. It is true that a car pollutes more the slower it goes or is stuck in traffic, but what if we had a second option? Quality fast public transport or the ability to use a bicycle or electric scooter to go to work can reduce the burden on a city. However, some drastic measures are needed that cannot be taken without effectively communicating why it is necessary to cut a car lane and redistribute the space for other purposes.
Redistribution of space is a very important instrument. We see it time and time again. We take space from pedestrians and give it to cyclist, we take green space and we give it to pedestrians and so on while redistribution of space means we take space from cars and we give it to functions that we need in our cities. There will always be angry reactions, as I said it is a controversial topic. Most of the times, the really loud minority is against that and it is also because it comes from something that people do not know. It is very important to look at restrictions. Car use should not be attractive, it should not be comfortable, it should not be inviting. We need to look at how we make other options more inviting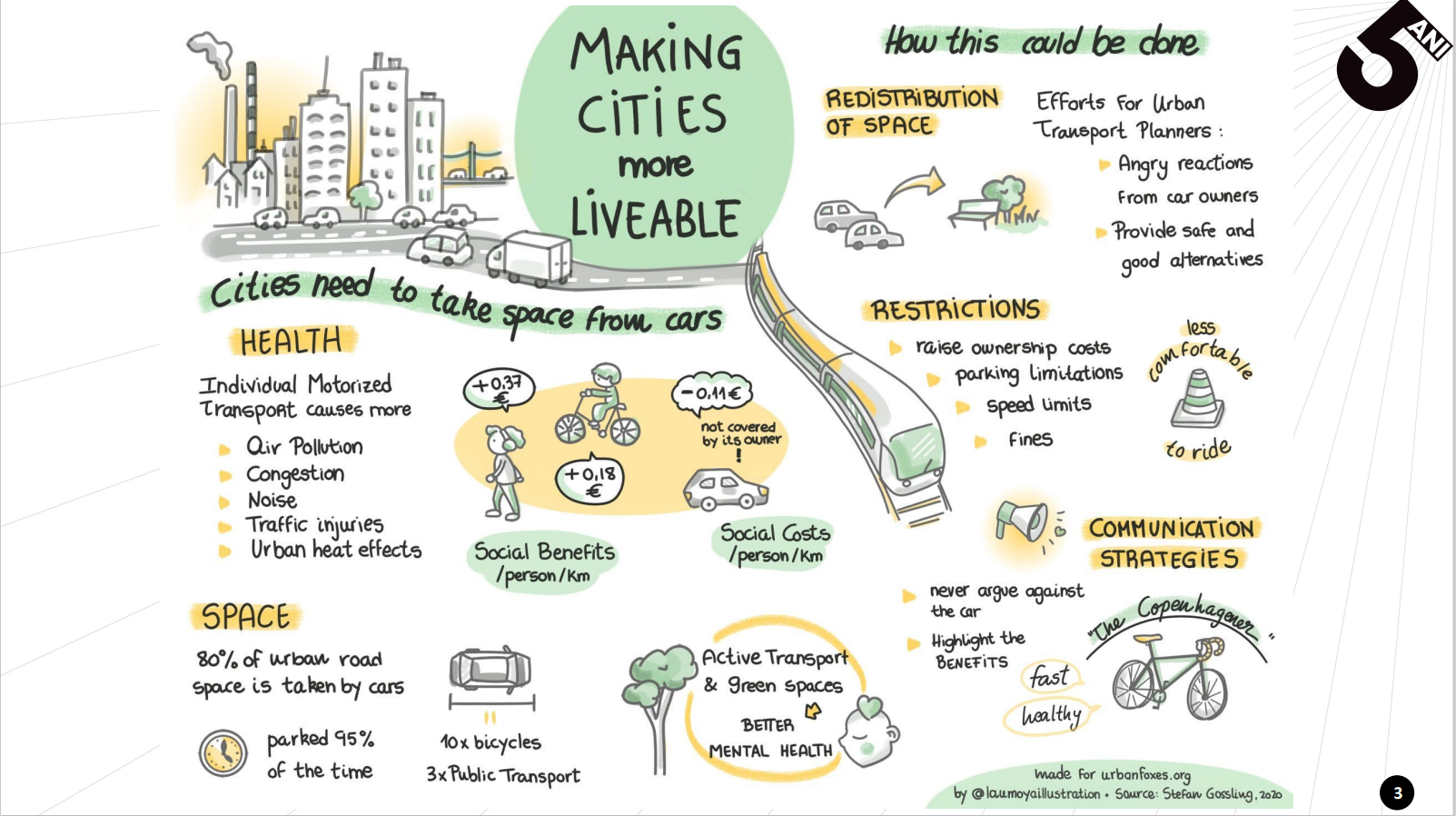 The mobility revolution is absolutely necessary to ensure that a city produces quality of life and takes concrete steps towards becoming climate neutral. In order to succeed, both the commitment of the local public administration and the support of the community are needed.
It's crucial how you bring the message to the people. If you are in the public administration or engage in such a project never argue against the car, highlight all the benefits of making the change for the people. If you are a citizen, always ask yourself what kind of city do you want. Do we want a city for people where we could hear people talking and laughing or a city where cars are kings and queens? Let's stop making excuses and let's get change running
We invite you to watch Ruxandra Aelenei's intervention on our YouTube channel. Furthermore, we would like to thank the Embassy of the Kingdom of the Netherlands in Romania for being an active partner in organizing this event.