Utterly astounding…insanely beautiful…undeniably stunning…
You would certainly miss half of the beauty that is Singapore if you've been to it but failed to drop by at the "Gardens by the Bay" and without getting the chance to take a glimpse of the supertrees.
The "Gardens" as they call it is undeniably one of the best urban designs that one can look at without getting tired of admiring its fascinating features.
Some say that the supertree structures and its surrounding architectures give you an "ultramodern," "futuristic" and "otherworldly" atmosphere.
Designed by the British landscape-architecture firm Grant Associates, these eighteen gigantic steel sequoias have towering heights ranging from 25 to 50 meters. The tallest among them soars as high as a 16-storey building.
During the day, the supertrees give you a feel of one of the scenes in the "Avatar" movie for its seemingly dreamlike but fantastic theme.
At night, these technological marvels light up the Singaporean night sky and actually look like cocktail glasses with dazzling bathe of violet, green and blue lights. Coupled with sounds, the atmosphere is one of happy motley of life, vivacity, energy and vitality rolled into one.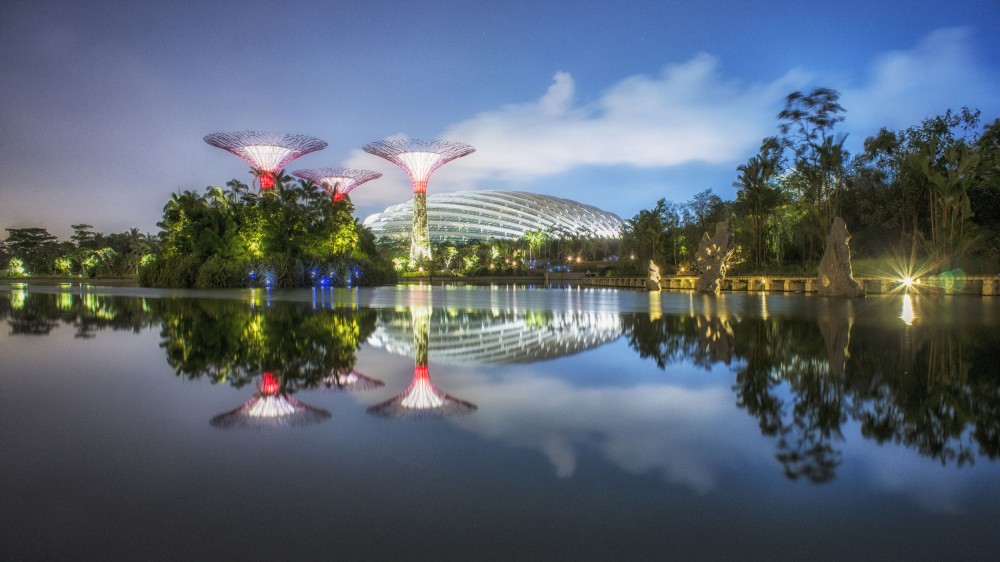 A paragon of sustainable architecture
The supertrees are strategically well-placed in various parts of the "Gardens by the Bay." Twelve are towering along the Supergrove Tree while the remaining six were placed in clusters of trees in the Golden and Silver Gardens.
If you are intrigued to know what each supertree is made of, I can assure you I am as curious as you are.
One thing is certain though: they are not made of natural trees.
Each supertree has an inner vertical structure called the reinforcement concrete core that keeps the supertree upright. Attached to the reinforcement core is a steel frame called the trunk.  To serve as vertical beds for various plants, planting panels are installed on the trunk. Finally, at the top portion is the canopy which actually looks like inverted umbrella.
Bridging two of the larger supertrees in the Supertree Grove is the OCBC Skyway, an elevated 128-meter walkway where one can just drown himself to the awesome panorama and captivating view of the Gardens.  
There are a number of good reasons which make these supertrees special in the point of view of environmentalism, urbanism and sustainability. The supertrees represent an urban jungle in itself as they serve as home for more than 162, 900 plants representing more than 200 species and varieties of exotic ferns, vines, orchids and huge collection of bromeliads. Having said that, the supertrees are an ecosystem in themselves that support life.
Inasmuch as the Gardens is conceived to enable both Singaporeans and tourists alike to get a feel of variety and diversity of faunas, it is not unusual to see species in the supertrees such as the Tillandsia stricta from Brazil, Tillandsia fasciculate from Panama, Cattleya maxima from Ecuador, and Pseudorhipsalis from Costa Rica.
With variegated faunas thriving in the supertrees, they represent complementarities of energy, warmth and colours ranging "from warm tones like reds, browns, orange and yellows, to cooler hues like silver and pink."
What's so special about the supertrees is that they are technological creations that mimic natural ecosystem.
Accordingly, 11 of the supertrees are capable of performing environmentally sustainable functions: they harvest energy from the sun for night illumination, catch falling rain for irrigation use and fountain displays, and serve as air intake and exhaust functions as some of them are linked to the Cooled Conservatories.
Cleverly conceived and structured, you may say.
No doubt, these supertrees represent a marvelous blend of sustainable and pragmatic technologies and creative architecture.
It enables one to enjoy the comfort and convenience of technology without losing sight of the beauty that it brings to the senses.
In a rapidly urbanizing world, cities need more creative and ingenious approaches to fusing technology and visionary architecture in built environment.
The supertrees are a concrete proof that in urban design technology and art can as well bring harmonious chemistry that delivers not only practical utility but also the virtue of beauty in it.
Learn more about the supertrees from video below:
Source: Gardens by the Bay, The Atlantic
Photo: dreamstime.com, robotspacebrain.com, newatlas.com, Grant Associates – UK.COM
Video: youtube.com