Traffic pollution is a problem faced by many urban communities, especially metropolitan areas. Eliminating this source of pollution is most often faced with people's reluctance to give up their personal car, this opposition also being caused by the lack of real alternatives. The Metropolitan Area of ​​Barcelona managed to create the largest Low Emission Zone in Europe, 95 km2, and convinced citizens to give up cars with high pollution standards.
How does the Low Emission Zone work?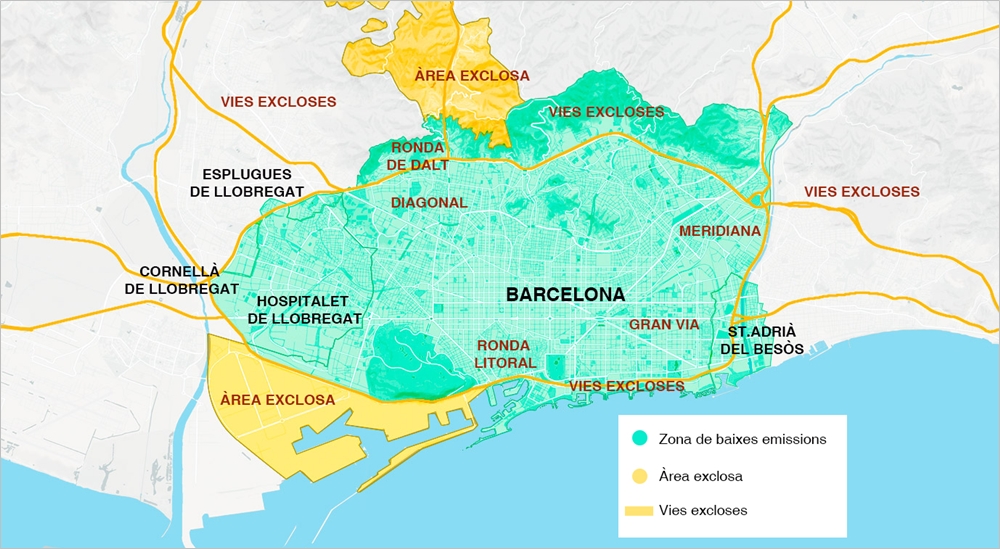 The project of the Low Emission Zone started from the need to provide clean air to the citizens. 70% of the population of Barcelona is exposed to a higher level of NO2 than recommended. About 50% of these emissions are caused by transport, but in higher density neighborhoods it even reaches a level of 70-80%. The European Union has set limits for air quality that have not been met. so in 2017 a plan was created to combat pollution in the metropolitan area where these Low Emission Zones were also created. After a whole discussion process with the municipalities, the 95 km2 zone comprising 5 municipalities was introduced in 2020. It is the largest Low Emission Zone in Europe.
From 7:00 a.m. to 8:00 p.m., vehicles that do not have the General Directorate of Traffic labels cannot drive in these areas. The label is given to cars that have low pollution standards, except for ambulances, safety service cars and those owned by low-income people who depend on their car to get to work. Tourists have to register their car on the website to be able to enter the area because they don't have those tags specific to Metropolitan Barcelona. Another exception is the fact that for 24 days a year, regardless of the pollution norm, one can drive through the Low Emission Zone without drivers being penalized.
There are 120 surveillance cameras operating in the Low Emission Zone. They send an alert in the first phase, after which they register a fine for those who do not comply with the pollution norms. Over a million vehicles are checked every day. The fines are in the amount of €200 and are given every 90 minutes in case of multiple violations on the same day. Funds collected from fines go towards funding public transport.
Citizens support the Low Emission Zone
For three years the intention to create this Reduced Emission Zone has been communicated precisely to inform citizens about what this will mean and how it will affect their daily lives. This dialogue with citizens was extremely important both to educate people about their own environmental impact and to create a mass of people to support the initiative. More than 90% of citizens believe that pollution is a serious problem, of which more than 70% believe that there is a need to implement traffic restrictions.
From 2017 to 2020, the number of cars with high pollution standards went from 160,000 to 30,000. It was decided that in order to encourage people to use public transport, if they give up their personal car for good, they have a free 3-year subscription to everything that means metropolitan public transport. As a result, 15,000 cars were disposed.
Statistics show that 11.1 million trips are made in Metropolitan Barcelona every day. Half of these trips are represented by active mobility, i.e. walking or cycling, followed by cars (26%) and public transport (24%).
Additional projects that are intended to reduce greenhouse gas emissions refer to logistics hubs for bicycle couriers (project extended to the level of 6 municipalities), reduced transport tickets for the elderly and disabled, and transport hubs provided with park & ​​ride systems.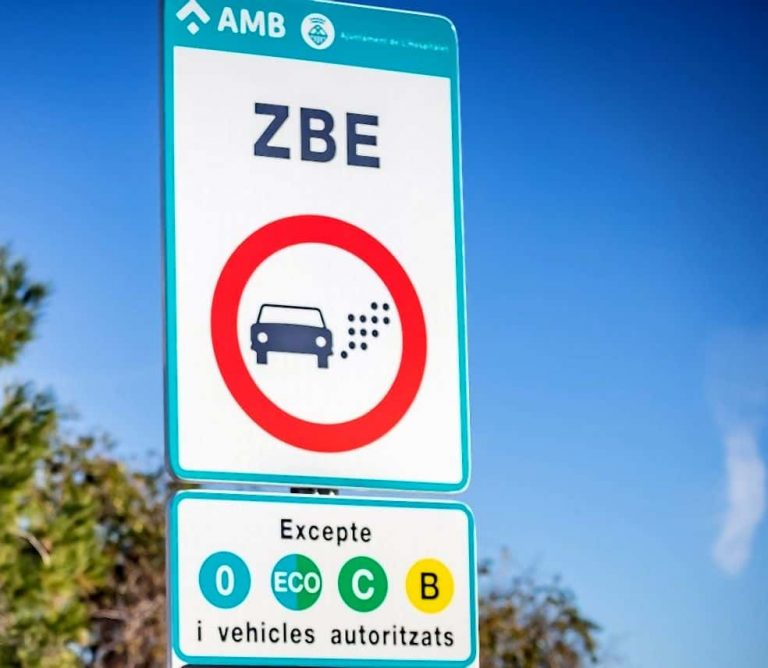 The Spanish central government has taken over the road sign for Low Emission Zones created by the Area Metropolitana de Barcelona and will use it nationally for future created LEZ. Currently, 320 cities in Europe have created Low Emission Zones and we expect the number to exceed 500 in the next three years. Even if there are still hundreds of thousands of cars driving through Metropolitan Barcelona, ​​the Low Emission Zone has created conditions for them to meet certain pollution standards. People who didn't want to give up their cars bought new ones, many hybrids and even electric ones.
The 95 km2 of low emissions are a living statement of people who want to breathe clean air. The fact that the majority supports and adapts to the new conditions of urban mobility is also encouraging for other cities that face the emissions but cannot overcome the current status quo because they do not understand how the citizens will react. Metropolitan Barcelona teaches us that once people become partners in a project that is in their immediate interest, contexts can be created that are more restrictive for a certain way of life but that create benefits for all in the end.
Sursă foto: Gencat, City Lab Barcelona, OpenTrends
This article is part of the EU Commission project Functional Areas in the EU