Ljubljana is a city that will surprise you and exceed your expectations. It is unique – small by surface area, but huge in its hospitality and quality of life. In its 170 square meters you will find all the characteristics of big metropolises and at the same time, you will be fascinated by its greenery, cleanness, safety, and friendliness.
The entire Ljubljana urban region has approximately 538,000 residents. Some say – especially the Mayor – that it is the most beautiful city in the world. If you don't believe it, go and see it for yourself.
How do they do it?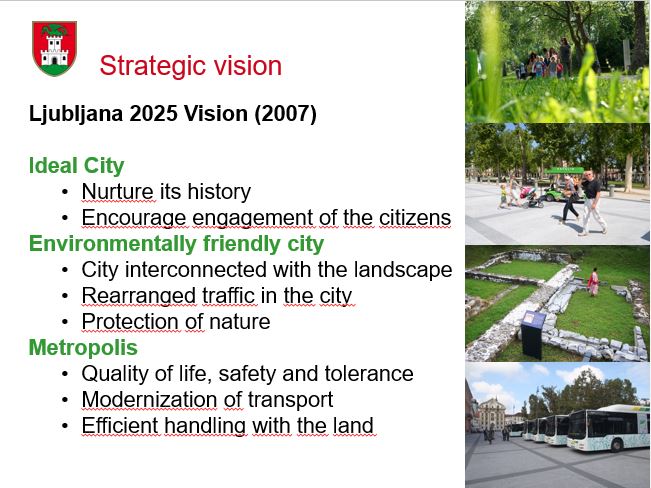 Since 2007, when they introduced the Vision for Ljubljana 2025, they have set out to ensure that their city becomes a sustainable and ideal city by 2025.
A city that nurtures history, ensures life quality, safety and tolerance, is environmentally friendly and connected to its landscape. In the Vision, the concept of sustainable development and urban planning are closely and harmoniously intertwined.
Following this Vision, several sustainability strategies and plans have been developed and adopted by the City Council, for environmental protection, sustainable energy, mobility, zero waste and other sustainability plans. Just this month, a brand new Sustainable Development Strategy (2020) was adopted.
The city government decided that the priority should be to become a city that is friendly to people, which in terms of sustainable mobility means reversing the transport mode pyramid.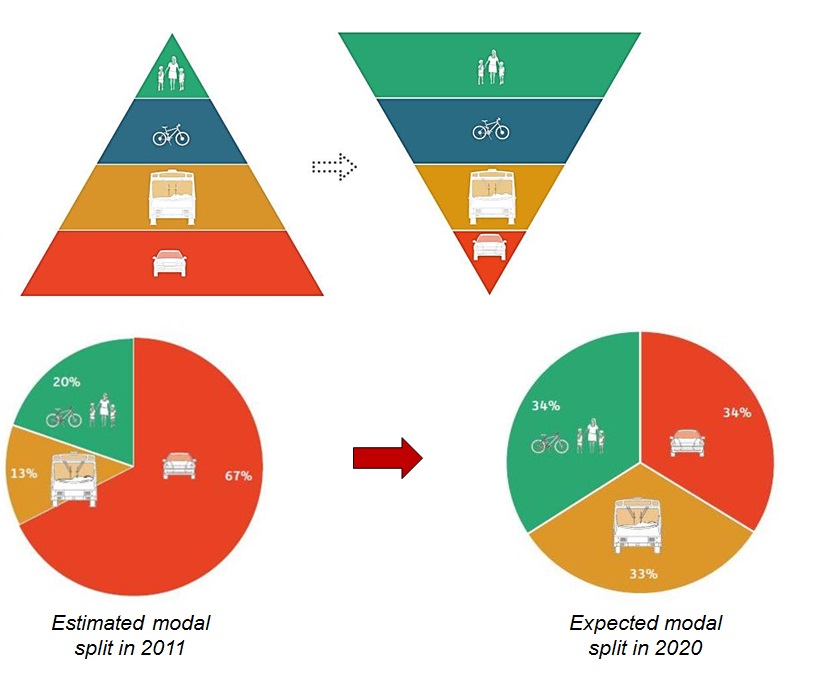 This was taken into consideration in the Sustainable Urban Mobility Plan, adopted by the City Council in September 2012. With a variety and cohesion of measures in the field of sustainable mobility, urban planning and environmental protection they plan to, by 2020, reduce CO2 emissions by 30%;  balance the distribution of mobility, so that 1/3 of all travels will be made by public transport, 1/3 by foot and bicycle and only 1/3 by car, as shown on the graph above.
On the left pie chart you can see an estimated modal split in 2011, but now, halfway through, the share of walking has increased drastically at the expense of car usage.
The Vision is the cornerstone of their development and since 2006 they have successfully implemented more than 1,700 projects that are in line with it:
Pedestrianization of the city center and rapid expansion of the ecological zone, enlargement of the green surfaces (which cover 3/4 of Ljubljana) and revival of degraded areas;
Zero waste model (63% of waste is collected separately), preservation of water sources |
You can see some of the projects "before and after" in the photo below.
Radical changes in the city centre
The most significant change is visible in the city centre – the pedestrian zone, closed to motorized traffic, has been increased by 620 % since 2007 and now covers approximately 100.000 square meters. It offers more quality public space for different cultural and sports events, business development, or just socializing and spending time in the picturesque corners of Ljubljana.
The "renaissance" is not focused only on the city center and the implementation of the car-free zone, but it is expanded throughout Ljubljana and covers different fields, such as revival of degraded areas, establishment of green public spaces, playgrounds for children, eco-renovation of schools and kindergartens, cultural and sport facilities, etc.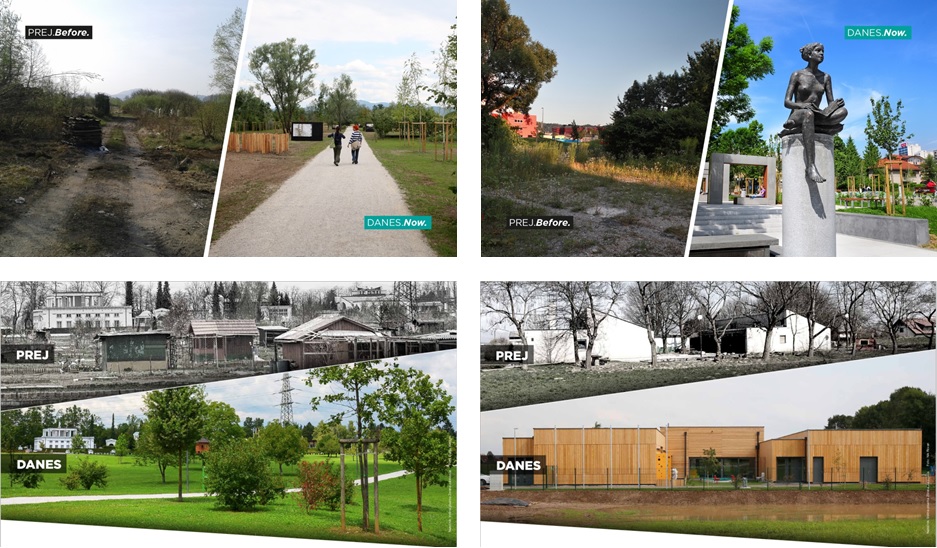 A novelty last year was the refurbishment of Slovenska Street, once the main traffic artery in the center. In September 2013 it was temporarily arranged for the first time as a surface for predominately pedestrians, cyclists, public transportation, with restricted access for motor vehicles.
Authorities promised to refurbish this area permanently, and two years later they had completely transformed it, with an altered traffic regime and creation of shared space dedicated only to pedestrians, cyclists and public transport.
The refurbished city walkway is now lined with young ash trees, attracting butterflies and bees.
After introducing an altered traffic regime, the black carbon concentrations in this area have decreased by 70% in comparison with the urban background location, while black carbon concentrations on surrounding roads did not increase, as it was expected.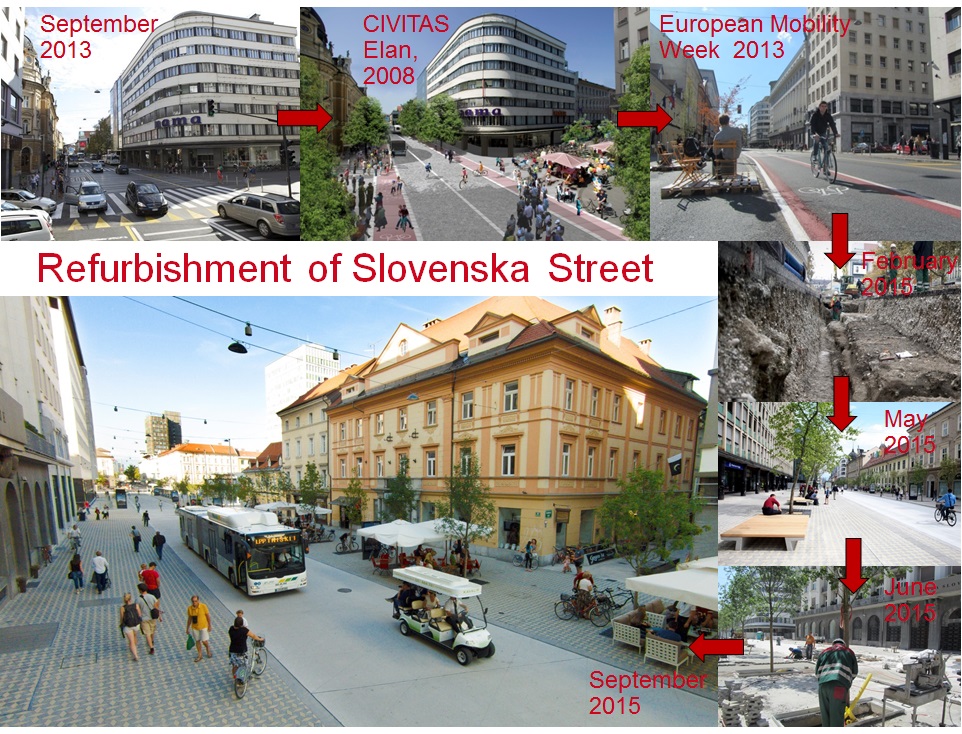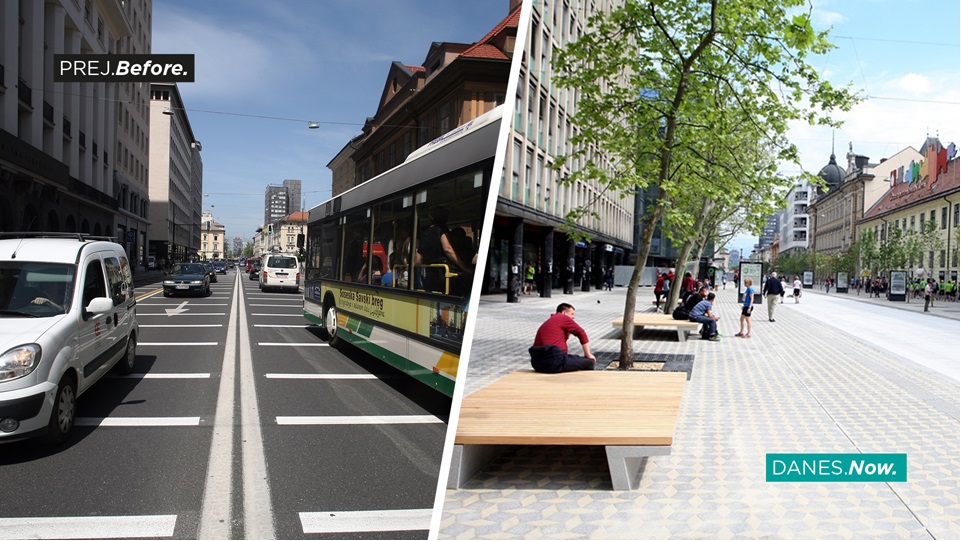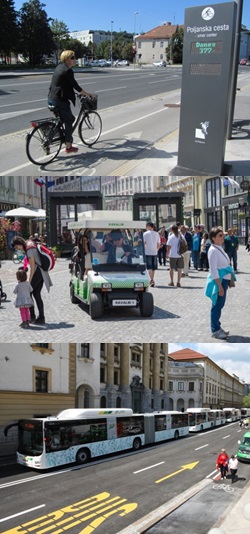 In the last year, many new things have appeared in Ljubljana, including new electric buses, parking spaces with SMS payment, a bike sharing program and thematic cycling routes, a new electric train for tourists, multifunctional travel cards (bus + trains).
The municipality's plans for this year are also ambitious, and they include more electric public transport vehicles and charging spots, expansion of the bike network and bicycle parks, combining bike and bus transport, improving road infrastructure to encourage walking and cycling, as well as a massive amount of new green surfaces like gardens, playgrounds and parks.
Plans are accompanied by an intense promotional campaign – for example, during this year's European Mobility Week they implemented 13 permanent measures, 9 week-long activities and 43 daily events in one week!
Best practices?
One of most ingenious thing they did was to use a public project that blocked the main traffic route from trough the city centre, which they prolonged to the maximum – the Mayor of Ljubljana said "I never taught that I will ever ask a worker to work as slowly as possible" as a 3-month project was extended to 9 months, all of this to see how the citizens would react if that street should become pedestrian and to give them time to change their routine to other traffic routes.
And after this experiment, the public was already used with the route being closed for traffic and the municipality of Ljubljana transformed it into a pedestrian street.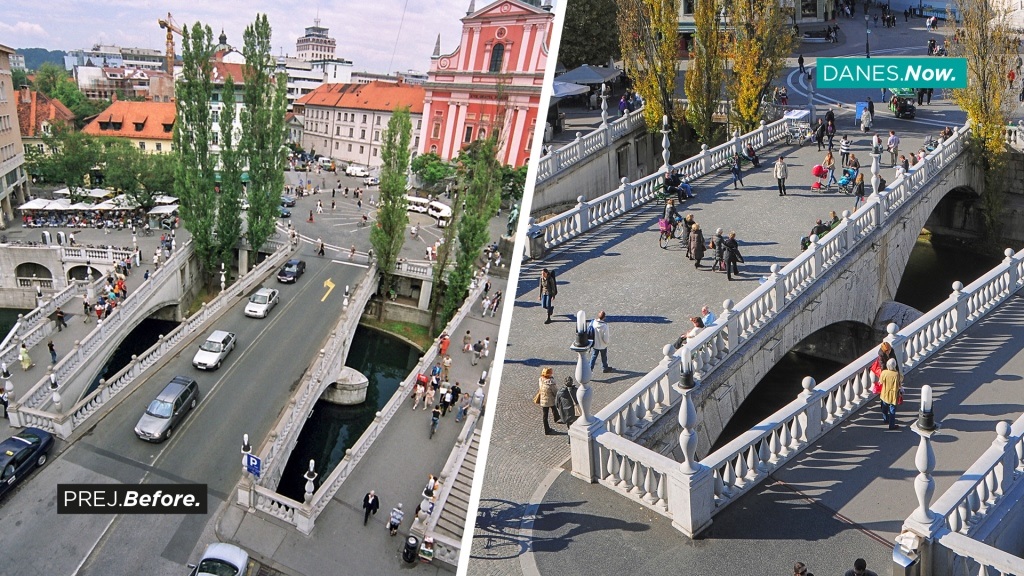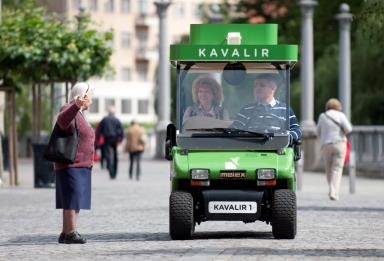 Because they made the streets pedestrian, they came with an ingenious idea to ensure the people affected by this measure with the transport needed, 4 Kavalir – electric vehicles that operate free of charge in the city centre: approx. 900.000 satisfied passengers since 2008.
The results?
The new arrangements offer opportunities for local economy development, and the beautiful ambient invites tourists and people living in Ljubljana to visit and enjoy the city (and spend their money in local stores, restaurants, cafes, shops).
A significant shift in modal split (in a comparison between 2003 and 2013, the number of journeys made by bicycle or on foot have increased from 19% to 35%) has been influenced by the "renaissance" of the city centre, which has changed drastically since 2007 and has been transformed from a car-friendly area to a people-friendly public space for different events (cultural, sports, entertainment), socializing, relaxation and more.
Results of sustainable mobility measures:
Sustainable mobility measures have made significant differences in the city. Pedestrian surfaces were increased by 620% by closing the city centre to cars; more than 542 m2 of green space per capita was created and people traveled significantly more on bikes (including 3,4 million rides with the self-service bike-sharing system) and using public transport.
Green development measures taken by the city of Ljubljana – renovation of public spaces, radical traffic restrictions, as well as ideas for noise reductions and cleaner air – have also been greatly successful among its residents, with most surveys indicating approval ratings between 70% and 90%.
Tourism has also had a boost, with almost 20% increase in overnight stays on a yearly basis.
Ljubljana is a wonderful city that certainly has a lot to offer. Their initiatives to achieve sustainability and to prioritize people over cars are truly admirable, and it is a great example of how much progress can be made in a few years if authorities are really determined to make a change in their city.
Tudor Tanase is the Country Coordinator in Romania for the Institute of the Regions of Europe, working on projects with topics such as Green Cities, Smart Cities, broadband and the exchange of public administration good practices in Europe. He is also a founder of the Smart City Brașov Association which promotes Smart City goals in Romania. He has a Master's Degree in International Relations from the University of Transylvania in Brasov and he worked as an intern for Institute of the Regions of Europe at its HQ in Salzburg.