Organising the Olympics can become complicated due to unexpected economic costs, urban planning and deadlines. But previous Olympic hosts have taught us that it is even more difficult to deal with the newly built infrastructure after the closing ceremony. What at first seems like an attractive investment, it later becomes a burden for the hosting city. Major Paes wants to avoid this burden by repurposing Rio's Olympic venues. 
Rio de Janeiro has opened its streets to the world under an environmentally conscious campaign and before the games started, Rio's mayor Eduardo Paes promised that Rio's Future Arena would be redeveloped into four state-run schools.
Rio's Future Arena is made of small modular parts and once the games are over it will be dismantled, stacked and then moved to Jacarepagua, Barra and São Cristóvão, the neighbourhoods in which the schools will be built. Other Olympic venues have also been designed to be repurposed. For example, the Aquatic stadium will be dismantled into two community pools and the Olympic Park will be transformed into public parks and private development.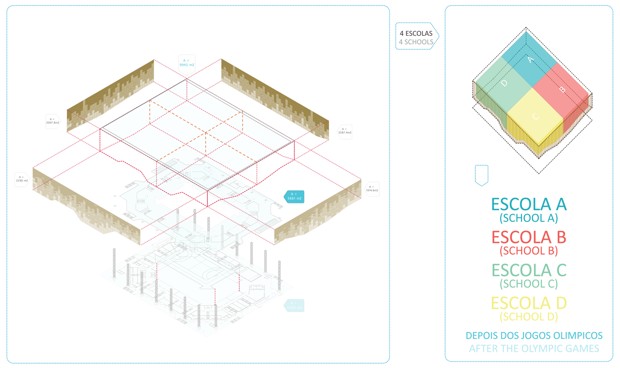 Using sustainable temporary architecture could actually prevent Rio from dealing with challenges that previous Olympic host cities have come to face. London has had to spend $400 million to repurpose its Olympic stadium into a football stadium for local team West Ham United. Beijing's main Olympic venue, "the Bird's Nest", costs $11 million in maintenance fees every year and Athens continues to see most of its venues being largely unused. On the other hand, Barcelona's Olympic venues continue to be used. This is due because Barcelona only had to build 30 percent of the total infrastructure used during the 1992 Olympic games.
Indeed, Paes has promised to keep his word and carry on with the post-game project but there are reasons for Brazilians to remain sceptical. However, before the games started, Paes also promised to ease traffic congestion and to clean up toxic waterways, promises he has failed to deliver. Jay Coakley, a University of Colorado professor specialised in the sociology of sports and the impacts of sports mega-events suggests that "The problem is that the legacies haven't been planned for." He also adds "unless they have things planned out and budgeted for, it isn't going to happen."  
Putting scepticism to the side, designing Rio's Olympic venues in order to be repurposed is a fantastic idea that could potentially have a positive effect on the daily life of Rio's citizens. But these objectives can only be met with careful planning and project compromise from local politicians and project investors alike. Unfortunately, after the 2014 World Cup corruption scandals, one cannot expect Brazilians to have much faith in the people responsible to carry on with this project.
Sources and Photo: Citylab and National Geographic.