China has made remarkable advancements in many aspects of development (civil engineering, industry, urbanization, etc.), but landscape architecture can certainly be seen as the most outstanding of all. Here are ten examples of projects where sustainability, functionality, creativity and concern for the environment all come together.
1. Zhengzhou Vanke Central Plaza, by Locus Associates, Zhengzhou
Locus Associates created a very popular social area at the Zhengzhou Vanke Central Plaza, where they implemented proper spatial circulation with shortcuts, landforming, water features and human-scaled elements – a functional design that is designed for people, in accordance with their requirements and needs.
2. One Island East, by Hargreaves Associates, in Taikoo Place, Hong Kong
Creating an urban plaza requires knowledge, skill and imagination in order to satisfy the needs of a densely inhabited area. At One Island East, Hargreaves Associates created a vivid and useful space, connecting people in a human-scaled landscape and bringing green into the concrete jungle.
3. Earthly Pond Service Center of International Horticultural Exposition 2014, by HHD_FUN, in Qingdao, Shandong
When creative and talented minds combine environmental elements, human needs, and architecture into the landscape, in the end it certainly must be piece of art. The HHD_FUN designers played with geometry and the result was a strong connection between landscape architecture and nature. Providing fluidity in space through a diamond-shaped grid system, they managed to combine water, vegetation, architecture and a peaceful place for humans, with perfect preservation of nature.
4. The Red Ribbon Park, by Turenscape, Tanghe River, Qinhuangdao City, Hebei Province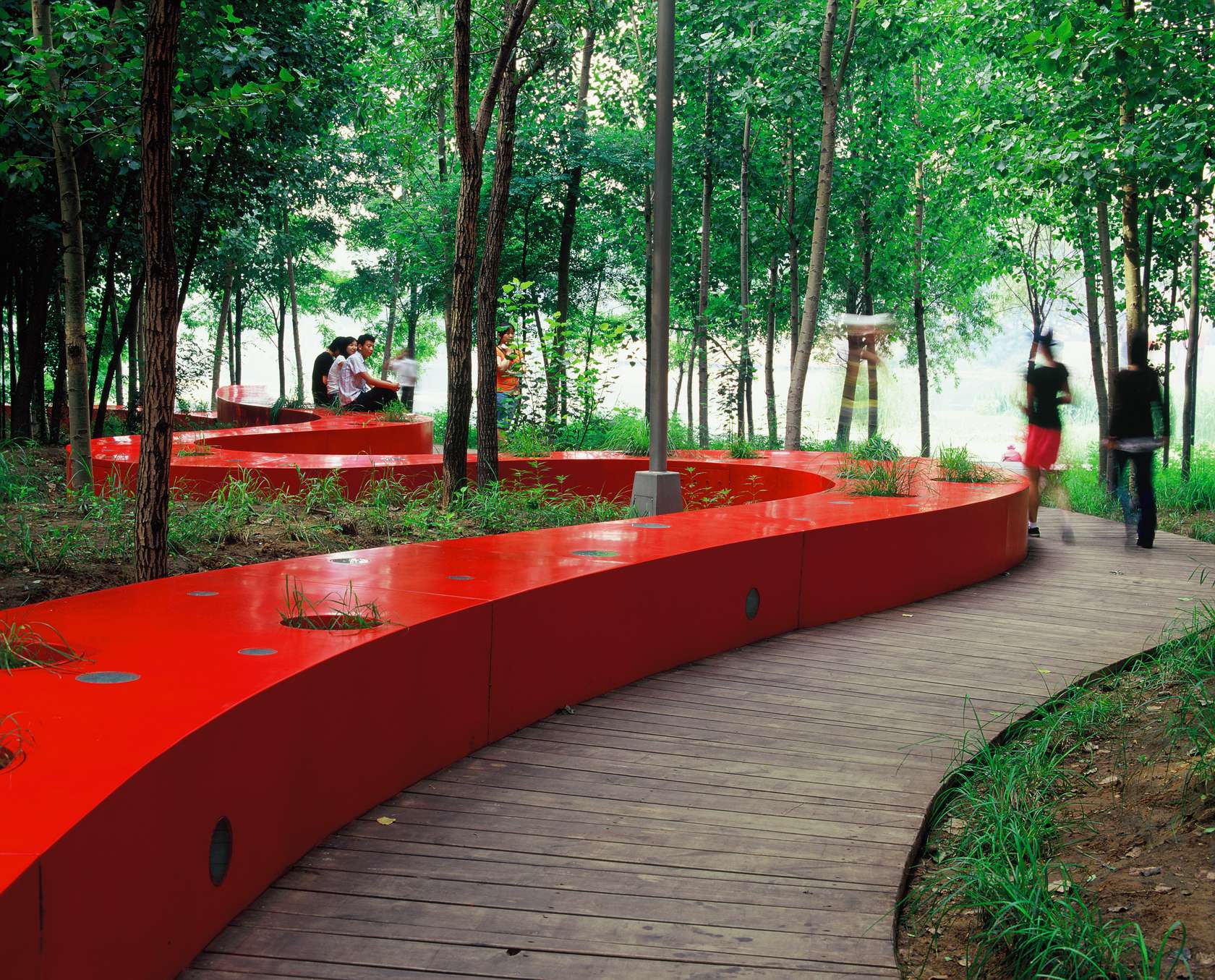 The edges of beaches are often neglected and hard to maintain. That also happened in Qinhuangdao, where the beach was nothing more than a garbage dump. Fortunately, the Turenscape designers renewed this area into an amazing landscape and preserved as much of the natural river corridor as possible, promoting diversity of vegetation and access for wildlife. The name Red Ribbon stands for the 500-meter-long red steel structure that stretches through the park, which glows at night, becoming even more interesting and attractive.
5. Where the River Runs, by Penda, inside the 10th China International Garden Expo, Wuhan, Beijing
With the motto "An ode to water", this project gives a true illustration of how water connects humankind with the planet. Water is a major part of human body, and rivers and oceans bring flora and fauna upon which many people's lives depend. The importance of clean water and a healthy environment is displayed throughout the garden, named by the Penda designers "Where the River Runs."
6. The Soundwave, by Penda, in Xiangyang, Hubei
Imagine entering into a landscape made up of water and stones, but instead of plants there are more than 500 vertical stainless-steel fins. This doesn't necessarily mean something bad; instead, the result is more than awesome. The Soundwave project carries along a deep meaning – putting together music, art, and nature, playing with the senses through light, sound, colors, shades, and reflections.
7. Quzhou Luming Park by Turenscape, in Quzhou, Zhejiang
This park represents simplicity of natural processes, but also brings sustainability and an economy-boost to the region. Designed in such a way as to respect nature, the Quzhou Luming Park is becoming a green oasis. The Turenscape designers tried to make it as natural as possible, so they included natural-red sandstone into their design and used floodplain-fertile soil for planting low-maintenance plants. Additionally, they claim they were "making friends" with the water by only minimally interfering with the river.
8. Slow Down: Liupanshui Minghu Wetland Park, by Turenscape, in Liupanshui, Guizhou Province
The designers of Liupanshui Minghu Wetland Park transformed a seriously deteriorated peri-urban site into a regenerative and highly ecological area. This nationally-celebrated wetland park developed a holistic strategy to solve severe problems like the regeneration of the River Shuichenghe, extensive water pollution, and many others. The final task was to bring people into the restored green space, because that was much needed in a densely populated area like Liupanshui.
9. Quarry Garden in Shanghai Botanical Garden, by THUPDI and Tsinghua University, Shanghai
When one abandoned and ruined quarry yard gets full ecological restoration and preservation of cultural and historical heritage, it could be considered a masterpiece of landscape architecture. Numerous challenges appeared in front of the designers, because the site had laid abandoned for a long time. Various actions were taken for its regeneration, like restoring the ecology of the quarry, making oriental-style experiences and applying difficult construction techniques.
10. Tianjin Cultural Park, by Atelier Dreiseitl, in the city of Tianjin
In a very large city like a Tianjin, with a population of more than 14 million people, actions must be initiated in order to keep the environment working properly. Designers at Atelier Dreiseitl, holding vast qualifications in environmental engineering, have come up with a great solution for an outstanding design for a large space of 90ha. With everything else that's on the plate here, they managed to preserve the culture of the city, as well as to collect, recycle, and purify precious water on a large scale.
This list comprises only a few of the many ingenious and inspiring Chinese landscape architecture projects. The whole world is looking towards interesting ideas for expanding the green areas in cities in ways that are optimal for socialization and relaxation, and China is a great example of a developing country that's taking the right measures to protect and highlight its cities' natural environments.
Source: landarchs.com
Photos: landarchs.com, landezine.com, architizer.com