You might be using your laptop, phone or dearest tablet to read this article. Today, tech gazettes are everywhere, and without them we all feel empty. But these things break, or we quickly move on to better ones even if they're still working.
Due to rapid technological development, higher incomes and demand in all aspects of life, consumption of electrical and electronic equipment (EEE) has been dramatically increasing lately. The bad news about our usage pattern is that it generates huge amounts of waste from equipment people no longer want or need. This particular type of waste is called waste electrical and electronic equipment (WEEE) or e-waste. According to the Swiss Federal Laboratories for Materials Science and Technology (EMPA), e-Waste/WEEE – is the term used to describe old, end-of-life or discarded appliances using electricity. It includes computers, consumer electronics, fridges etc. which have been disposed of by their original users. Due to complex structure and size, it is often difficult to classify such waste into smaller categories. However, according to the "Directive, 2012/19/EU of the European Parliament and of the Council on waste electrical and electronic equipment'', WEEE is classified into ten categories listed below.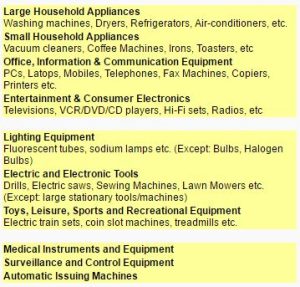 Every year, globally, the generation of e-waste is estimated around 20-50 million metric tons, considered to be one of the fastest growing waste streams. Generally, e-waste contains hundreds of toxic hazardous substances including cadmium, lead, mercury, zinc sulphide and others. These are heavy metals that can cause serious environmental and health hazards by mixing with soil and air, if not responsibly handled and recycled. In most cases, due to malpractice and indiscriminate disposal, the majority of e-waste goes to landfills. For example, in 2005, the U.S. discarded 1.36–1.72 million metric tons of WEEE into their landfills.
Environmental risk, economic opportunity
To tackle this ever increasing waste stream, numerous legislative and regulatory measures have been taken worldwide. The first comprehensive legislative measure has been taken by the EU, named as the ''EU WEEE Directive''. Producers, distributors and consumers and, in particular, operators that are directly involved in the treatment of WEEE are identified as key stakeholders in the Directive. Other developed countries have already identified the problem and enacted several regulations, but there is still a long way to go.
On the other hand, Asian countries like China, India, Bangladesh, Pakistan and others are having a serious environmental situation. Illegal import and dumping of e-waste by developed countries are obvious reasons, even though most of the developing Asian countries are signatories of the Basel Convention. Weak legislative measure and the presence of large unregulated waste recycling industries are found to be crucial for trans-boundary movement of e-waste; where very little, if any, environmental concern is given in terms of pollution and workers' health and safety.  Combustion from burning e-waste produces particles linked to pulmonary and cardiovascular disease.
Although e-waste contains hazardous substances, systematic and scientific management and recycling processes can contribute to resource recovery and environmental benefits. E-waste contains precious metals such as gold, platinum, palladium silver and titanium, along with other large material fractions like plastics. From an economic perspective, there is a tremendous opportunity to be a green entrepreneur by recycling e-waste items.
Raising public awareness
One of the focal points of today's e-waste research surrounds the collection and recycling of e-waste, both of which need improvement through enhanced public participation and following regulation under various circumstances. For instance, e-waste must not be disposed of with household waste bins. You can place it in one of your nearby municipal collection points or call your local e-waste collectors and/or recyclers to take the items off your hands.
Community involvement is very important for proper disposal of WEEE items, as in many cases people feel reluctant to dispose of their items on their own. Drop-off events could be a viable strategy to gather e-waste items from neighborhoods. Legislators and other stakeholders should concentrate on building public awareness through seminars, workshops and campaigns. Schools and universities are the best places to develop norms for future generation – this would offer the best change of resolving this problem and of moving towards a sustainable world.

Article by Md. Tasbirul Islam, member and contributor of Urbanize Hub. Md Tasbirul Islam is currently working as a Research Assistant (RA) at University Science Malaysia, Malaysia. He also worked as a Lecturer at IUBAT – International University of Business Agriculture and Technology, Dhaka, Bangladesh. His main research interests are renewable energy, waste management and sustainable development. 
Photo: harmonyfdn.ca