An ambitious plan to build the world's tallest timber skyscraper was unveiled by Japanese builder and developer Sumitomo Forestry Co, one of Japan's biggest construction conglomerates.
Projected to position itself in Central Tokyo at approximately 1,148 feet (around 350 meters), with 70-stories above ground, W350 Project (named after its height) will be Japan's tallest building and the world's tallest wooden structure.
Sumitomo Forestry Co collaborates with Nikken Sekkei to come up with a braced-tube structure and an architectural design which will not only be aesthetically pleasing but also one with structural integrity to overcome the strong winds and earthquakes to which the city is prone. The former will be in charge of the actual construction, while the latter contributes to the overall design.
Intended to withstand frequent seismic activities that characterize a Pacific ring-belt country like Japan, the hybrid wooden structure will be built with a 9:1 wood to steel ratio. With 90% wood and only 10% steel, W350 requires at least ¥600 billion or approximately £4.02 billion, an amount double the total construction costs for a conventional building.
Turning city into forest
Upon completion, the world's tallest wooden "plyscraper" best exemplifies the classical eco-building. According to the architects behind the plan, W350's ultimate objective is to turn Japan's capital into an "environmentally-friendly city" and "transform it into a forest."
Committed to this goal, Sumitomo says W350 will feature residential units, hotel, shops, garden roof covered with foliage, balconies veiled with greenery, and water features reflective of Japan's intimate experience with water, all of which are designed to simulate the primal nature-man harmonious co-existence.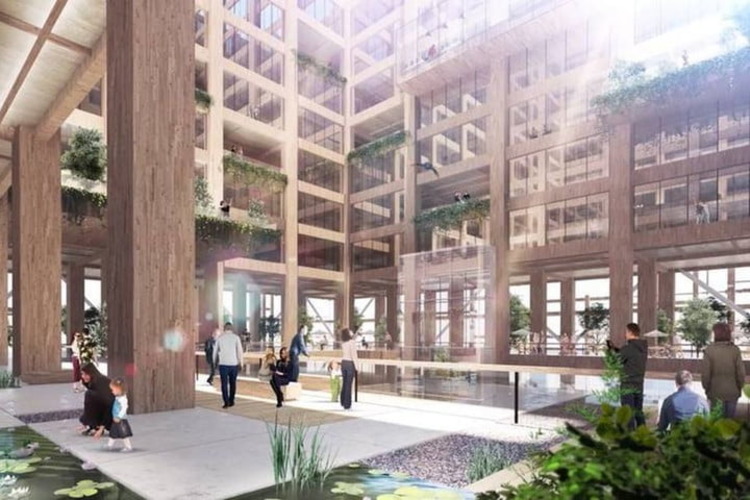 The interior of the building is aesthetically designed with large internal open spaces to allow natural light to penetrate the apartments, offices and shops. Entirely made of wood, the interior will have a total estimated area of 455,000 square meter floor space.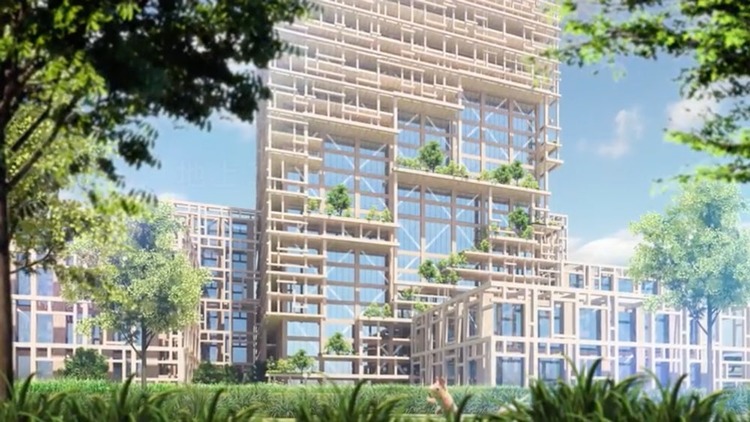 The building is aimed at promoting urban biodiversity as the balconies situated in all the four sides of the building's exterior are designed as green areas where one can remarkably savour the spread of greenery from the ground to the top floor.
Likewise, this building is deemed eco-friendly when viewed in climate change mitigation perspectives as it would save thousands of tons of carbon dioxide emissions, which are typical of buildings made of concrete and steel.
Wood renaissance
Japan has a long-standing wooden architectural tradition and its high-level of simplicity and precision in this craft has long been admired. Looking at traditional Japanese houses as well as the ancient Shinto and Buddhist temples in the rural areas and old cities in Japan closely reveals this intimacy to wooden structures.
But the material behavior in the country started to change since Japan's experience during the World War II, where major cities easily fell for firebomb raids.
Japan is known for its strict fire regulations which made it unusually difficult for designers, developers and builders to use wood on buildings intended for residential or commercial purposes for obvious reasons.
But regulatory grips start to loosen in the last few years, making way for the eventual materialization of the W350 project.
In fact, the Japan national stadium in Tokyo which will be used for the 2020 Olympics currently uses wood as construction material. It is reported that it is wood-inspired by the Horyuji Temple of Nara, Japan's ancient capital back to the dawn of the 6th century.
As to what type of wood will be used for W350 remains unclear at the moment, it is assumed that it may use engineered wood system with tensile strength, structural integrity and stability comparable to that of steel.
Supporters of the project cited a number of good reasons on the use of wood as an ideal material: wood is renewable and readily available from nature, pliable, works well in seismic environment, aesthetically preferable and easily replaceable for repair and maintenance.
In other parts of the world, an increasing number of architectural companies turn to wood for larger buildings.
In Vienna, Austria, the 24-storey wooden Ho-Ho Tower was laid bare to the public just recently.
Currently, the tallest wooden building known to man is the Brock Commons Tallwood House, a student accommodation at the University of Columbia in Vancouver, Canada.
Projected to pop out in 2041, W350 will definitely blow everything else out of the water as it will dwarf all existing wooden skyscrapers in the world.
Will the project revive Japan's ancient wooden architecture and jumpstart a new world era of wooden edifice?
Source: The Guardian, The Telegraph
Photo: cnbc.com, digitaltrends.com, newatlas.com