"When the going gets tough, the tough gets going." This expression perfectly applies to a situation when a start-up entrepreneur faces a tough dilemma but managed to be even tougher than the situation itself.
With perseverance and resilience, a truly determined entrepreneur keeps moving towards his goal, abstracts the lessons learned and work even harder and smarter to meet the challenges.
Listening from Bruce Chen gives one a good reflection point on the importance of determination.
Bruce related that the story behind INSTO is a journey of patience and constant learning from experiences acquired during the actual operations of his company. The story of the evolution of his company can as well be regarded as the story of the evolution of his character as an entrepreneur.
Coming from an arts background, it seems highly unlikely that a person like Chen will venture to something techie. But his love of the arts is only complemented and reinforced by his love with computers. He initially established a company named Capsule Innovations back in Missouri.
He flew back to Taiwan and hired his two former students to assist him in his operations. He eventually purchased another domain, iinstallment.com (with two ii's, i.e., person-to-person). Incapable of paying it in full, he bought it in an agreed payment plan.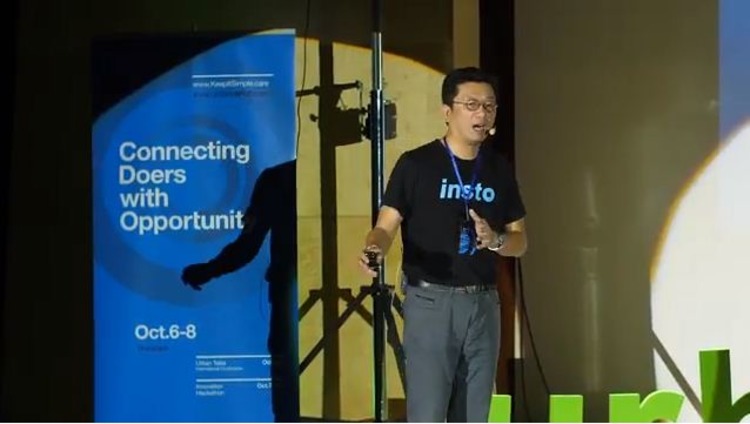 In 2014, he immediately assembled his first team, put up his service and approached some of his friends to test 10 to 12 users of the service. In the summer of 2014, the website's service became live; he noticed that one of the users of the service kept using it repeatedly which is a good indication that the service has a market.
In 2015, a member of an investors group from the Silicon Valley told him that his business model could translate into a billion dollar business. After receiving US$1.9 million from Silicon Valley investors in 2015, the company recently received US$600,000 from an institutional group, Chen recalled.
He launched INSTO both in the US and Taiwan. It was a testworthy stage. INSTO recorded about US$250,000 during its beta testing period in the US. In August last year, it hit around 1 million dollars amount of transaction.
Not a walk in the park
But running a start-up is certainly not a walk in the park. Like many other start-ups, even if you are surrounded with capable people and do everything you sense is right, if anything can go wrong, it will.
Chen allowed three other persons to be his co-founders, which marks the beginning of trying times for the company.
Things begin to fall apart. His Chief Technology Officer (CTO) resigned to give birth. Another co-founder, a Chief Financial Officer (CFO) who put investment in the company tried to take over it. He realized that after money enters in the equation, people starts to change.
Having encountered lots of turbulence, both surface and hidden, Chen is only quick to share that one needs mental toughness to face failure and pick one's self back up to try again.
INSTO makes payment a lot easier
INSTO is a person-to-person payment platform that allows buyers and sellers to schedule payments over time. One can use INSTO for almost practically everything, usually transactions requiring small, digestible monthly installments.
Its automated payment features are best suited for recurring person-to-person payments, such as but not limited to gardening or painting lessons, service fees of lawyers and other professionals.
The app facilitates "peer to peer" payments, allowing consumers to pay one another directly through their bank accounts or with credit or debit cards.
Lessons learned
After trying and failing, here are four of the most important lessons that Bruce Chen want imparted to his listeners:
Don't make your investors your colleagues, separate them. When someone puts money and comes into operation, a sense of ownership sets in which sooner or later can cause conflict.
Bad things can be good; good things can be bad. Things may go wrong even if you didn't will it. One is bound to commit mistakes as it happens. But these are but petty little glitches that can be best managed if one hang in there long enough and patiently but smartly pivot itself to adjust to changing circumstances.
If no one understood you, it might be that they are simply not good enough. Believe in yourself. Chen said that his company approach investors but no one initially want to invest. Empty-handed at the outset, in the end he got the topnotch investors from Silicon Valley itself. It is easy to get frustrated but never allow it to happen. Don't be frustrated. Instead, believe in yourself
Start-ups should be like amoeba. Don't knock your heads on something that doesn't just work. Instead keep transforming.
Find out more about Chen and INSTO's journey in the full video below:
Bruce Chen, is an artist turned founder. He first joined Sony Psygnosis as a 3D Animator after receiving his MSc degree, then was recruited by an Internet startup at Stanford University to join the founding team in Silicon Valley back in 1996. The startup, SinaNet, later became SINA in 1998 and eventually went public on Nasdaq in year 2000. He also worked for E-Bay as its Chief Strategy Office in Taiwan before finally founding his own company, INSTO.