Singapore is already considered one of the greatest cities to work and live in, due to its easy access to high-quality, efficient public transportation. Further efforts now attempt to establish the state as a "car-lite" nation by 2030, making public transport account for 75% of rush hour commutes.
Besides boosting the use of public transport, this new challenge will attract more business and further investments.
In a world where individual car ownership is starting to disappear, being replaced by public transport, Singapore is among the actors leading the way. Public transport infrastructure is still being improved and heavily invested in, as the current mode share of 66% people using it, is aimed to be increased with about 10% by 2030.
The comparison with Hong Kong disadvantages Singapore, as the former boasts a remarkable public transport mode share of 88%. Digital technology emerges as a solution for states to accelerate such changes and to help them meet their own deadlines easier.
Using technology to improve urban mobility
Artificial intelligence can not only help achieve a car-lite future, but also help revolutionize life. The new technological trend of autonomous vehicles driven by such intelligence is a hot topic today, as technological giants such as Google, Tesla or Uber are already testing prototypes.
Leaders in Singapore predict that this technology will only be mature enough to be deployed widely in more than a decade. Smaller companies all over the world are already carrying out pilot tests, in an attempt to accelerate the process.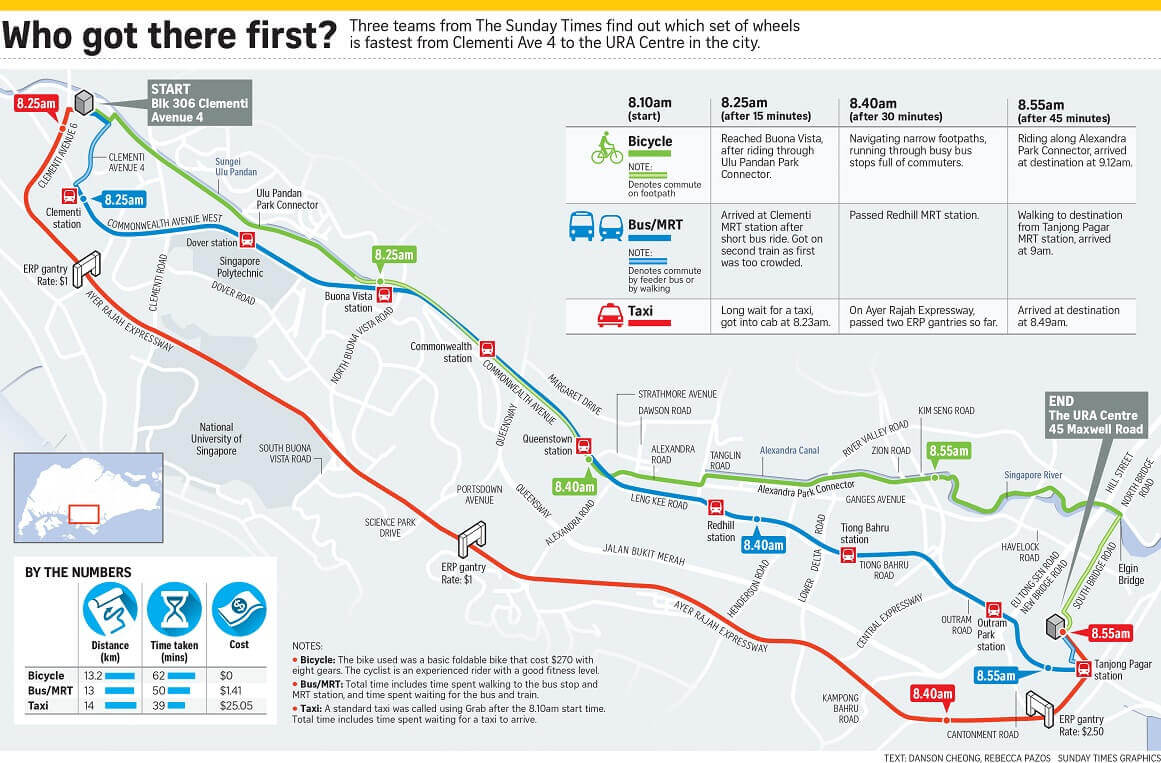 However, aspects such as consumer behavior or mobility trends need to be taken into account, and this is precisely where big data comes into play.
Some innovative computing technology, able to process enormous amounts of information will certainly be crucial to the ultimate functioning of such a complex process. Driverless cars could not only be a reality soon, but, most importantly, such innovations may bring about and trigger new business models.
An example in this sense is China, where real time transport data is publicly available across the country, through mobile phone apps. The other side of the coin here is the enormous amounts of data collected from the apps, from the inputs of the users. Using this, cities can improve and refine their knowledge of travel patterns and mobility, leading to a more efficient allocation of resources.
These ideas have already triggered projects and strategic plans in Singapore, such as "Car-lite Sunday" or "Active Mobility Bill". New investments in public transportation schemes are also projected, eventually predicted to help transform the society according to this innovative car-lite model.
Clear decentralized urban planning is necessary and is already under way. Analyses of travel patterns, available infrastructure or demand-supply balances are crucial before establishing clear public transport schemes.
Planning should target drivers, attempting to change their transport-related behavior, but should also successfully include the use of big data. Ultimately, transport planners need insights into the locations, types and frequencies of needed transport services.
Digital technology can be an essential, integral aspect of future cities, as it can provide efficient and cost-effective ways of moving people around. It ultimately has the ability and the potential to transform the way we live, work and travel.
Singapore is on the right track regarding public transport, as these ideas of autonomous vehicles are also accompanied by already implemented projects expanding railway networks, reducing waiting times for buses and improving transfers for commuters. Further efforts will also be directed towards active mobility, walking and cycling, with the aim of making the environment more sustainable and more attractive.
Sources: Eco-Business, Straits Times
Photos: Straits Times, Today Online, Eco-Business