The Lowline is a plan to use innovative solar technology to illuminate an historic trolley terminal on the Lower East Side of New York City. The vision is a stunning underground park, providing a beautiful respite and a cultural attraction in one of the world's most dense, exciting urban environments.
New York's City Hall has given the go-ahead for the Lowline underground park, which aims to emulate the success of the city's elevated High Line. Creators James Ramsey and Daniel Barasch have been granted control of the space, and can now develop their design and continue efforts to raise the $60 million (£45 million) needed for construction.
During the early 20th century, the site was a turnaround point for trolleys, but has been disused since 1948. In the interim, the space above ground has transformed into one of the densest pockets in a city already strapped for space. Barasch, wondered what might happen if developers built down, instead of up. "The transformation of an old, forgotten trolley terminal into a dynamic cultural space designed for a 21st century city is truly a New York story." said Barasch. "We know with input from the community and the city, we can make the Lowline a unique, inspiring space that everyone can enjoy."
The underground park will be sustained by light siphoned from the sidewalks by a series of solar arrays. This cutting-edge solar technology and design, will enable plants and trees to grow underground. Furthermore it will create not merely a public space, but an innovative display of how technology can transform our cities.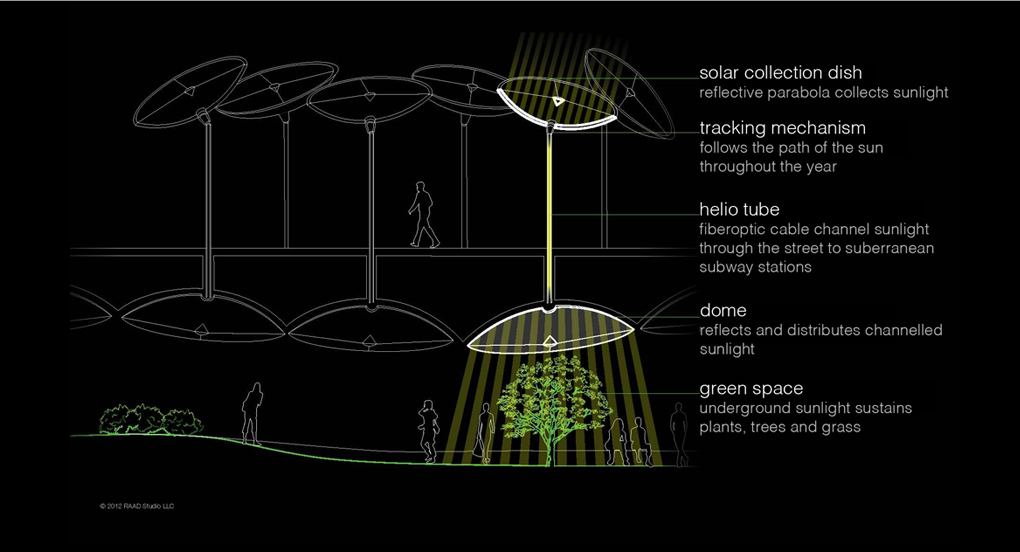 To promote their idea Barasch and Ramsey created a mock-up of the Lowline that demonstrates how its designers will bring sunlight and plant life below the streets of Manhattan's Lower East Side. "The Lowline Lab offers a glimpse into a pioneering use of solar technology, which may help us fundamentally rethink the ways in which we can reclaim abandoned urban spaces",  says Dan Barasch. "It is also home to cutting-edge landscape design research – essentially ushering in a new way to study subterranean gardening."
Sources : Dezeen, Lowline Lab, Lowline official website
Photos: Lowline official webiste