Cities that make the green transition a strategic priority for the future face the problem of financing. Changes in the urban fabric require funds and an interdisciplinary approach to make today's urban a sustainable environment. How can a policy centered on green development support public administrations?
Patrick Child, Head of the 100 Climate-Neutral Cities by 2030 Mission, spoke about the goals undertaken by cities that want to become neutral in terms of greenhouse gas emissions and how the European Commission can provide assistance to cities with green ambitions. At the same time, Patrick Child also wants to expand the mission to other local communities interested in going green through funding provided by central governments.
We're aiming to deliver 100 climate-neutral and smart cities by 2030 and to empower those cities to also act as role models for all European cities to become climate-neutral by 2050. Earlier this year we selected 100 cities from the European Union and 12 from associated countries to take part in the Mission out of the total of 377 that applied and expressed interest in our work.
Among the 377 cities we saw 13 Romanian cities and we are delighted to be able to select and participate in the mission 3 cities: 2nd District of Bucharest, Cluj-Napoca and Suceava.
The cities within the mission are working to prepare climate-city contracts, a document which will contain the commitment to achieve climate-neutrality by 2030, together with a detaliled action plan and an investment strategy to show how these very ambitious objectives can be achieved. The contracts need to be cross-sectoral but they also need to be very concrete, they need to build on what the cities have already done or are doing but the cross-cutting nature of the mission objectives and the investment plan of the city contracts will be new in many cases
I was very pleased to have the opportunity to visit Bucharest in September and met with representatives of several ministries and national funding agencies in Romania to discuss the sort of support structures that we can provide for green and smart transformation of cities and it's very encouraging for me to see some of the people at this roundtable.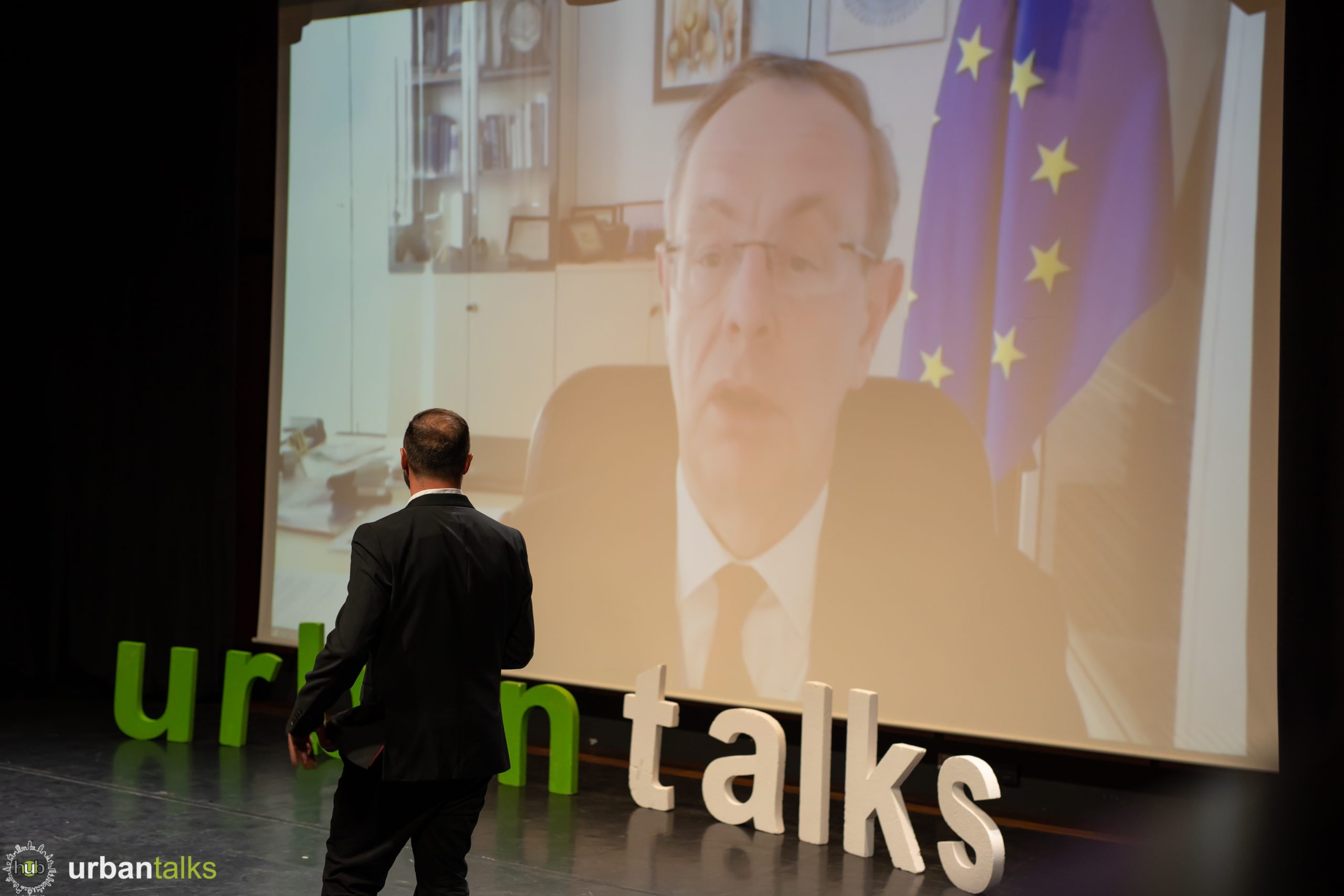 Adrian Curaj, Director General of UEFISCDI, believes that cities in Romania, regardless of size, are an extraordinary environment for testing innovative solutions that can then be exported. In order for Sector 2, Cluj-Napoca and Suceava to be successful in the implementation of green projects, but also for other cities that make the green transition a priority, there is a need for mechanisms at the national level to encourage the collaboration of all stakeholders.
Someone was saying to me "stop dreaming about putting people to work". This thing fits very well, the dream that does not remain a dream, but generates dynamics, transformation and involvement is fantastic. When it can happen and people are inspired around, the sky is the limit. I like to be on the ground, I think from the area where I come from, an agency that finances research and innovation, an agency that by funding actually facilitates. A few years ago, when discussing entrepreneurship in Romania, we said very clearly to try to regulate, that is, to make laws that are smart enough so as not to stop this fantastic vibe that is in the entrepreneurial space in Romania. It is very important to think big and thinking big is also when, being close to the dynamics of driving urban transition, we said how to make as many applicant cities as possible. We were thinking how it would be to have not only a city, but a metropolitan area, but it was not to be. If you don't build this common vibe and you don't build the whole dynamics of the transformation, it doesn't happen, there are statements of intent, vision statements and so on.
We had the chance for the people of Sector 2 to mobilize fantastically and submit a successful application. It's a fantastic challenge for Sector 2 to make the story a reality and a dream for all of Bucharest.
I believe that the space of experiment to which we contribute can make a difference. I like big cities, I like the three big players Cluj, Sector 2 and Suceava in the game of selected cities in the 100 club, but you know why I'm afraid? I'm afraid we don't have enough skill to avoid the idea of ​​nobody left behind. We have a wonderful cast of small towns and big cities. Innovation and entrepreneurship is different at the level of smaller cities than it is in big cities where we have critical mass. Why can't we manage to come up with a fantastic experience and an experimental laboratory of Romania with diverse solutions where there are big actors, but I would like to find enough mechanisms for small actors to make a difference because they will come with a fantastic diversity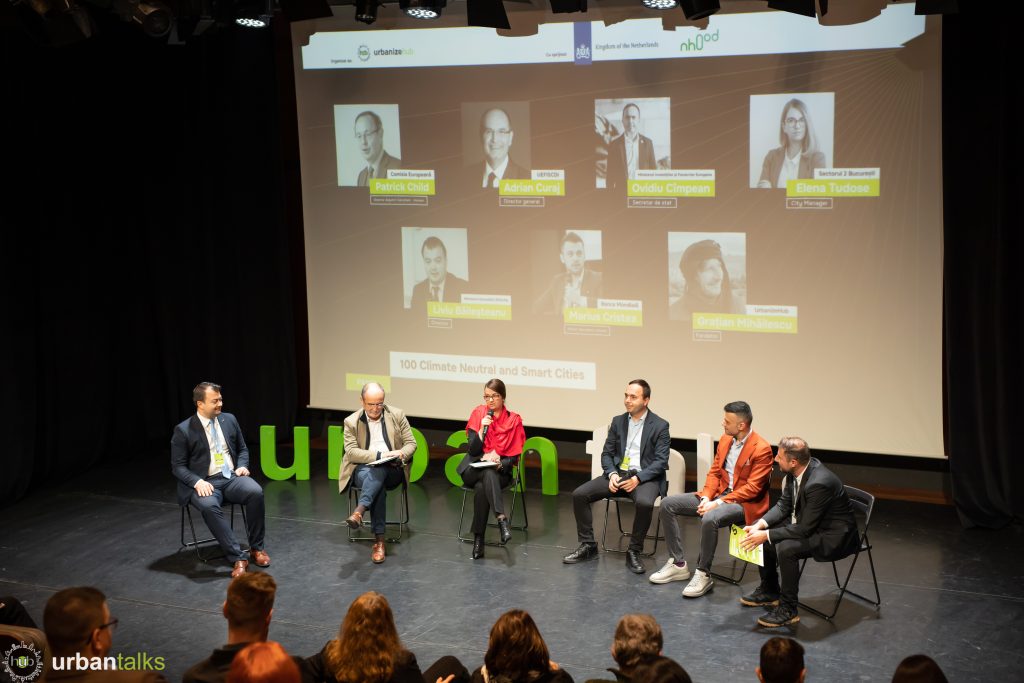 Liviu Băileșteanu, Director at the Ministry of Development, Public Works and Administration, explained why Romania's Urban Policy is needed and how the Government is involved in providing support to local administrations. The geopolitical context over which a COVID-19 pandemic, a galloping inflation and a war at Romania's borders have overlapped make it difficult for public administrations to implement measures to reduce pollution. Adding additional parking fees, restricting car access on certain roads or other measures that can be interpreted as punitive have a negative perception effect both for the one who adopts them and for the green city concept. For this reason, the Ministry of Development came up with 30 points in Romania's Urban Policy in order to build a common agenda for green and resilient cities together with local town halls and the university environment.
There are two major challenges. One is the administrative capacity and the second is the mindset of the citizens. We need discussions, debates and we all need to understand that we need to take this step, why it is necessary, how to make this green transition or what it means to successfully implement this initiative. The only risk of failure is doing nothing.
We have to take into account that 40% of the population is at risk of poverty and this percentage will be the most affected by all these global shocks. It is not easy for a mayor who comes before the community and undertakes some unpopular measures for certain categories of people.
At the level of the ministry, we tried to support the local public authorities on three levels: the strategic framework, the regulatory framework and the financing framework. In the strategic area, I would start with the national promotion of the urban agenda. Such initiatives seem particularly important to us, and we have tried to push as many authorities as possible to participate in cooperation formats at the European level, whether we are talking about urban or whether we are talking about partnerships from the Urban Agenda […] Through the Urban Policy we – we wanted these concepts not to remain with a limited number of cities, but to increase the administrative capacity and one of the important pillars of the Urban Policy is that of green and resilient cities. More than 30 concrete actions are proposed until 2030 through which we want to build a common agenda and build together with the central and local public authorities and the universities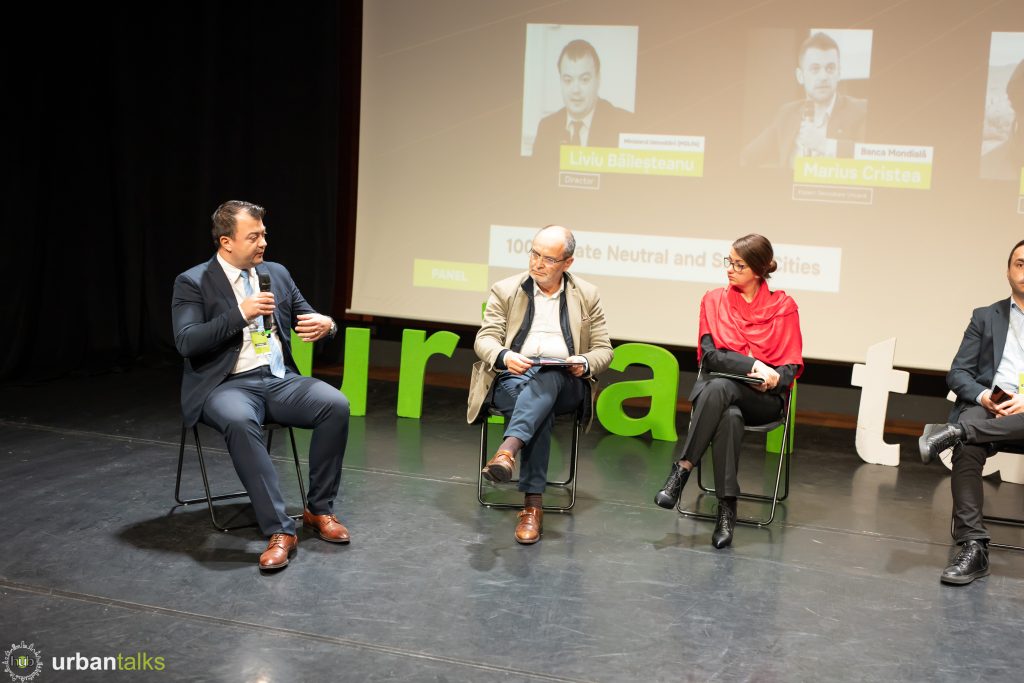 The whole roundtable from UrbanTalks can be watched on our YouTube channel.